Could it be? Your dream job in Biotech on the beach? Views of the ocean, no state income tax and you could change patients' lives? It can't be true!
$118 million. That is what Florida government allocated to biotech funding in 2018.
Boston? $100 million. Florida is carving out 20% more than Boston? What's going on down there?
A biotech ecosystem has been known to take 30-40 years to develop. Government spend, entrepreneurs, venture capitalists and talent all have to take a chance when growing a new biotech hub.
Massachusetts, California, Maryland, and Pennsylvania are a few examples of biotech ecosystems that have 40 years under their belt, but who is next?
How about Florida? Isn't it all tourists and retirees down there?
Not anymore.
16 years ago, Florida government made a big move by allocating $310 million to Scripps Research Institute to expand their endeavors into Florida. Since then, there have been ups and downs, but things are currently on their way up.
Florida is experiencing the 4th highest growth rate in new research funding, contributing 87,000 direct jobs with another 290,000 broad scope across the US. Florida Biotech makes a $31 billion economic contribution through 6000+ institutions, making up roughly 10% of all Biotech in the US!
Growth doesn't come without challenges. When we speak with hiring managers at Florida Biotech they tell us that their biggest hurdle is finding the talent that is willing to relocate. A candidate with a specialty in rare neurological diseases can see the potential at the client's company, but what if it doesn't work out? With their specific specialty…they need more options in the same space for long term career options and backup plans. In Boston it's practically a CIA mission to go on an interview unseen by your boss as it might even be within the same building, or quite literally, across the street. Changing into suits in cabs and bathrooms is never out of the question.
So how do we create this in Florida?
The sunshine state definitely peaks people's interest. When I talk to my clients about my recent move to South Florida they all say "find me a job down there!". Perks include unlimited sunshine, beautiful beaches, low sales tax, no state income tax….and don't forget…it might get hot, but you don't have to shovel sunshine!
Recently, GForce Life Sciences traveled to the Florida Capitol with the BioFlorida group to better understand the biotech landscape and advocate for increased government spending for Biotech as well as other bills that could contribute to biotech economic growth.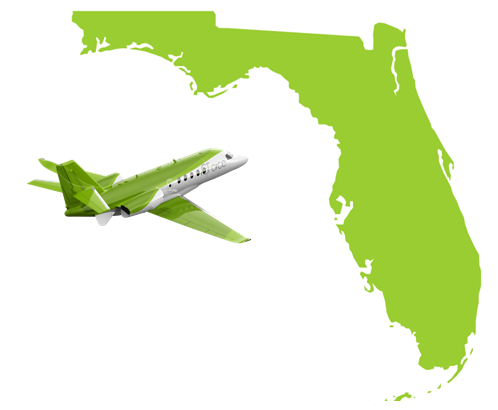 BioFlorida is the voice of Florida's life sciences industry. Members of the BioFlorida network include emerging and established life science companies, universities, research institutions, hospitals, medical centers, incubators, etc.
In Tallahassee, alongside 50 other BioFlorida members, GForce Life Sciences advocated for biotech funding, an increased Research and Development credit, and lowering the commercial lease tax that affects more than just biotech in the area.
Those in biotech take for granted that everyone else knows what goes into discovering how to treat Duchenne's or how to slow down Alzheimer's, but it is complicated and legislature are voting on hundreds of bills and sometimes getting up to speed very quickly. Taking the time to educate and advocate can help move the biotech business forward.
Making our government aware of what we need to grow is one thing, but the other is marketing the area to potential candidates.
As the private jet of agency partnership, GForce Life Sciences takes the time to immerse ourselves in the community so that we can bring you the best talent and help them understand your company and the local biotech landscape.
Whether you are a biotech in a hard to recruit area or one in a well-established market like Boston, GForce Life Sciences takes pride in understanding our clients' needs, crafting a unique solution and supporting them, step by step, during the process.
We are dedicated to our clients, we immerse ourselves within the community and slow down the process to ensure first class, upgraded services.